We were very pleased with the neurosurgeon, the anesthesia team and the proton therapy specialists. They treated Khadija like she was their own daughter. They even tried to learn Arabic so they could communicate with her. She stopped crying and began to look forward to going to the center. Eventually she felt comfortable enough to help the anesthesia nurse and Dr. Proton take her blood pressure and temperature.
This is the story of a mother's worst nightmare: her energetic, happy four-year old girl was slowly succumbing to progressively worsening symptoms with no clear cause. These frightening symptoms prevented her from running and playing with other children and eventually threatened to steal her life. This is the story of Khadija. 
At the beginning, Khadija would awaken from a sound sleep with her hands shaking. She began to vomit every time she ate and dragged her feet when she tried to walk. Eventually, she was overtaken by weakness, her toes were paralyzed and she could not walk. The mysterious illness took her eyesight, raised fevers and created ear pain. Soon the right side of her scalp became swollen and soft.  After months of medical imaging and consultations, an MRI showed a cancerous tumor on Khadija's brain. Eight hours of surgery removed the tumor and little Khadija was able to move her legs and toes, but rigorous treatment was still needed. More surgery would be necessary to remove tumor residue, chemotherapy would be required, and the promising course of Proton Radiation therapy was located in the United States. With approval from the Bahraini Ministry of Health the family boarded a flight to receive proton treatment through SAH Care. 
In November 2016, the family arrived safely in the United States and sat down for their first meeting with SAH's Chief Medical Officer, Dr. Allan Thornton. He immediately put the family at ease and gave them important information about their daughter. He helped them to understand the details of their daughter's illness, the treatments available to her, the benefits and precision of proton therapy and her prognosis. As SAH Care staff coordinated housing, transportation, recreation and translators for the family and connected them with other families of similar background in the area, Dr. Thornton got down to the business of treating little Khadija.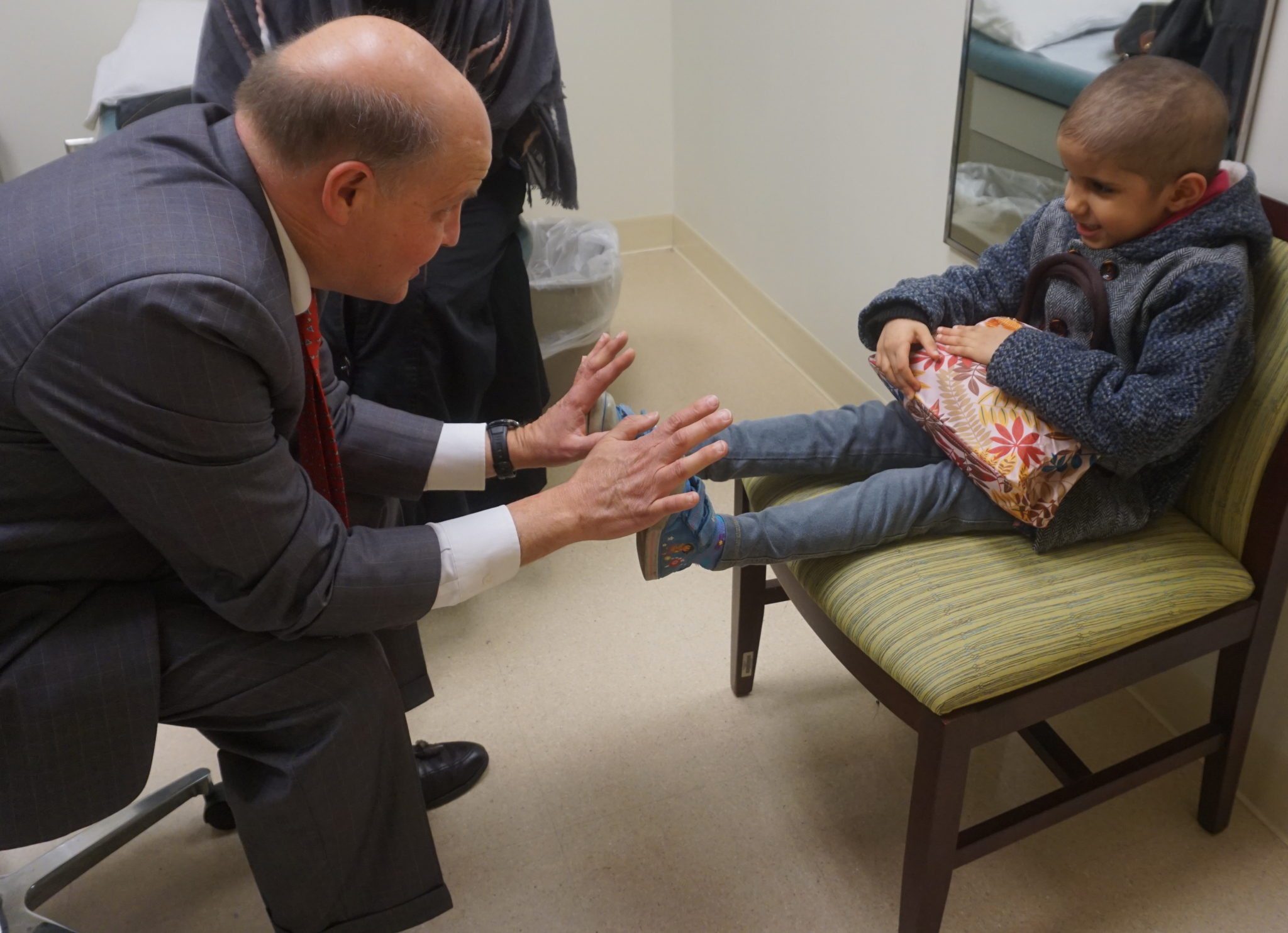 Khadija with Dr. Allan Thornton (She calls him Dr. Proton)
First, an eight-hour surgical procedure was conducted at one of SAH's partner facilities, and  Virginia's foremost pediatric hospital to remove the tumor residue from Khadija's brain. Just one week later she was discharged from the hospital, running around like an active, healthy little four-year-old and building a snowman in the first snowstorm she had ever seen.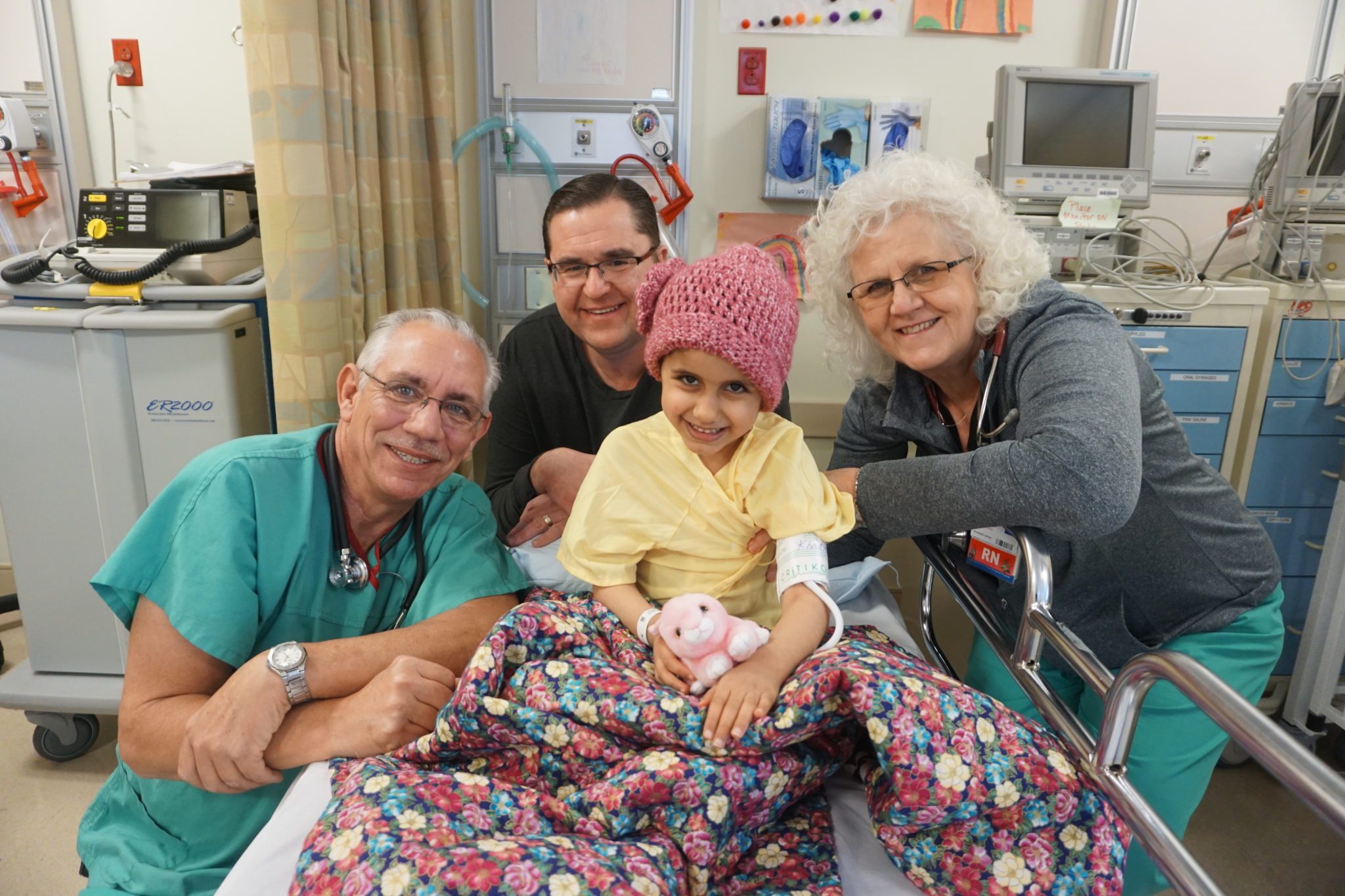 Khadija with her surgery team
Then it was time for the proton therapy treatment to begin. The SAH Team knew how important it was to make the family and Khadija feel comfortable at the Proton Center. They showed her around the center and joined in with her while she played with the new lego set the team had bought for her. Sure enough not long after, she began talking and playing with other patients in the waiting room. She even created a nickname for Dr. Thornton and called him "Dr. Proton" to make him laugh. The walk-in walk-out 40-minute proton therapy treatments were conducted five days a week and weekly visits were held with Dr. Thornton.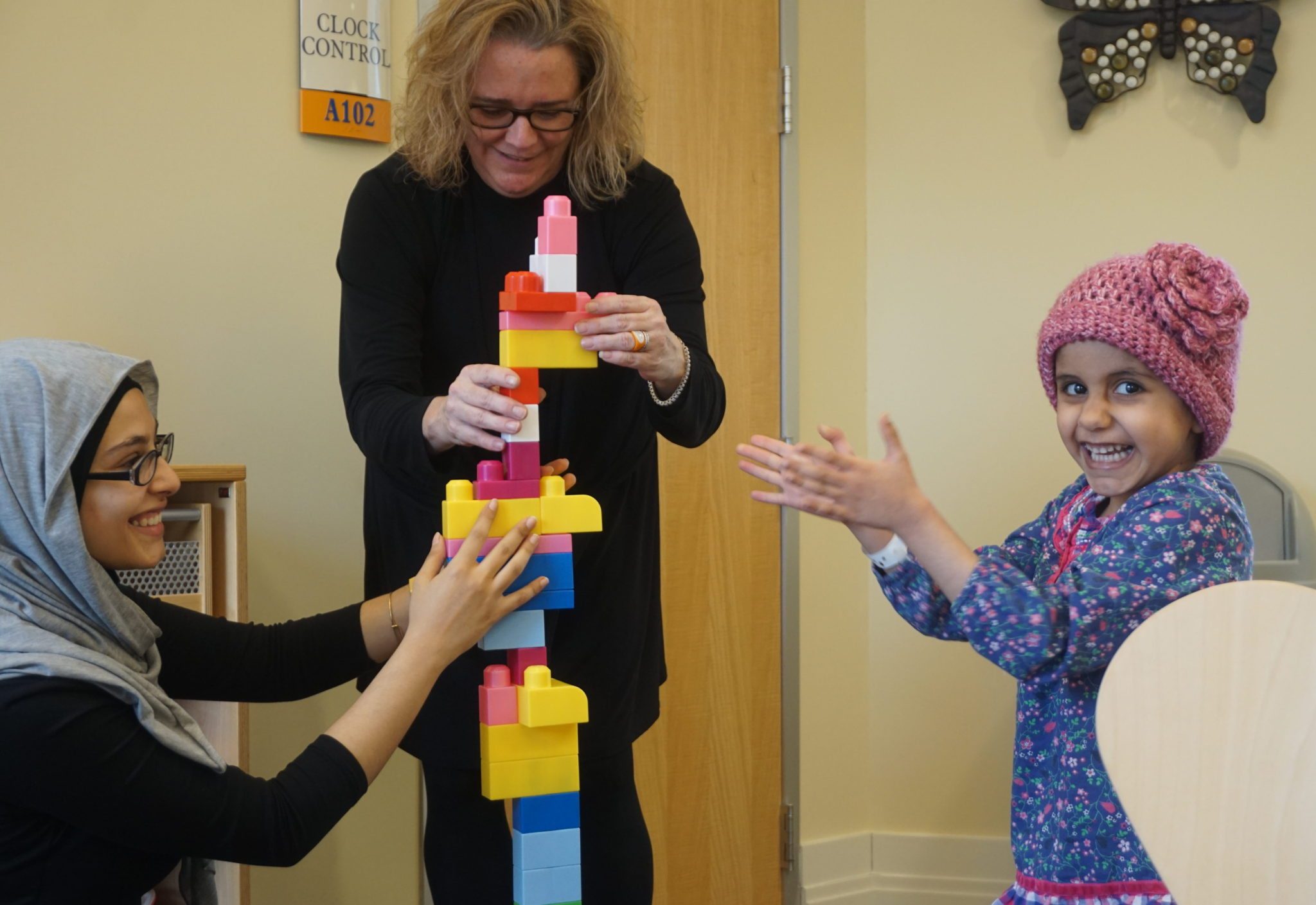 "There was laughter every time we went to the center for treatment. Khadija loved all the medical staff.  She would make silly faces, take Snapchat pictures, laugh, and hug everyone"
– Khadija's Mother
Eight months after Khadija's first cancer diagnosis was made in Bahrain, she successfully completed her treatment on March of 2017 with proton therapy. Follow-up care and observation continued in the U.S. with Dr. Thornton for one-month post treatment. Follow-up MRI's were conducted, confirming that the tumor had stopped growing. The proton therapy had successfully targeted the tumor and responding well to the treatment in a positive manner. Now little Khadija and her family are back at home in Bahrain. Her health care is in maintenance mode with MRIs conducted every three to four months. They are sent to Dr. Thornton for review and he continues to oversee her health, in collaboration with her Bahraini physicians and the health ministry.
SAH Care and the medical team of professionals were honored to be allowed to help save such a precious gem like Khadija. A little girl who is once again full of life, energy, and hope. We are humbled on a daily basis by the determination of our patients and their families.